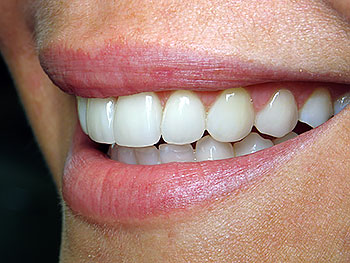 While traditional dentistry focuses on oral hygiene and preventing, diagnosing and treating oral disease, the goal of "restorative dentistry" is to accomplish all of these things while also improving the appearance of a person's teeth, mouth and smile.
While there are important functional requirements to be considered, Dr. Schmidt and his team must pay close attention to the appearance of your final dental work and balance the needs of form versus function. Restorative dentistry is dentistry aimed at creating a positive change to your teeth and to your smile.
To achieve the beautiful results that you expect, we use special materials such as ceramic and composite technology. These materials have advanced to the point where they can be the basis for beautiful AND durable dental work especially when using the latest in dental technology.
The Art & Science of Your Smile
Restorative Dentistry can provide a positive impact to your overall dental health and function in addition to having a positive aesthetic impact. By thoroughly examining your oral health, Dr. Schmidt can determine the most appropriate treatment options to suit your needs.
You can now select fillings made of porcelain or composite materials that closely match the color and feel of your existing teeth, thus maintaining the natural appearance of your teeth and smile.
The Contours of Your Smile
Many people are choosing to have their older fillings replaced with newer, tooth-colored fillings to enhance their oral appearance.
Restorative Dentistry offers many options for people who would like to improve their smile.
West Campus Dental has many methods for repairing, restoring or otherwise changing the appearance of your teeth!
---